Drive better health & financial outcomes.
Tendo Outreach connects Tendo Insights to our applications, enabling clinical, financial, and quality teams to establish rules and action plans for proactively monitoring and analyzing data. Intelligent workflows for patients, clinicians, and operations teams facilitate informed decision-making and drive better results.
Plan & execute targeted outreach to engage prioritized patient populations & clinical teams to take critical actions.
Identify high-value patients
Manage chronic conditions
Navigate transitions of care
Implement care plans, follow-up referrals & education
Proactively manage her chronic health conditions.
The insight to find her.
Tendo Insights identifies Robin as one of a group of patients due for their Annual Wellness Visit (AWV) and those with non-specific HCCs. Robin is on a roster that is prioritized for important outreach and actions.
The right channels to reach her.
The stage is set by a notification educating her on the importance of annual wellness visits. She is prompted via her communication channel of choice to make an appointment. Robin receives reminders to ensure she is not a no-show. A few days before the appointment she receives a Health Risk Assessment which makes her appointment more efficient and productive for both her and her provider.
The right tools to engage her.
Robin also receives personalized reminders to speak about her chronic conditions with her provider and have her completed survey ready for the appointment.
The right care to support her.
During Robin's AWV, multiple chronic conditions are identified that require further care and create a Chronic Care Management (CCM) visit. Robin is provided with improved care, and the CCM visit results in referrals to new specialists.
Follow up to ensure her continual progress.
Robin's care journey and reminders are managed through Tendo's Patient Care Journey app. She is able to easily access her care plan and share it with her caregivers. She can communicate with her care team via texts, chat, email, and virtual visits.
Epilogue~
Robin was identified as a high-risk patient and prioritized for timely appointments. New interventions were put in place to address some of Robin's new and existing chronic conditions. An ongoing care plan and education content were provided to Robin, who saw continued improvement and strengthened her connection with her care team. Robin enjoyed a weekend with her grandchildren in New York City, confident that her health conditions were under control.
The health system was able to update Robin's chronic conditions in its documentation, allowing for accurate billing and better revenue capture. Robin's care plan and timely follow-ups helped the health system meet revenue and margin goals.
Ensure that transitions of care do not result in gaps in his care.
Discharged with an effective plan.

Following inpatient treatment for his respiratory infection, Norman is discharged from the hospital and receives a proactive digital care plan that includes education, follow-ups, and referrals to appropriate specialists. This digital care plan helps Norman's discharge occur faster, reducing his length of stay. Norman is also given a simple remote patient monitoring device to track his pulmonary health. The transition to home is relatively smooth; his wife, Sue, who is his main caregiver, is notified with the same information at the same time through her communication channel of choice.
Transition care management scheduling.
Norman's digital care plan prompts Sue to set up a transition care management visit (TCM) within two days of Norman's discharge. TCM visits are proven to reduce readmissions by 50% as they provide proactive education and early complication identification. Norman also schedules his follow-up appointment with his family physician, Dr. Magiano, within 14 days to discuss his recent hospital stay. Dr. Magiano provides Norman with educational material and a referral to a pulmonologist to ensure his continued recovery and good health.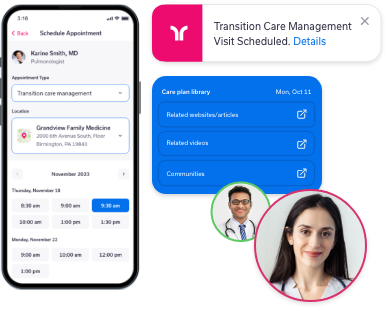 Ongoing health reminders.
Norman's digital care plan provides timely and personalized reminders for remote check-ins, surveys, and follow-up appointments, including referrals. These reminders have been proven to prevent costly readmissions for the hospital.
Follow-up appointments.
Norman continues to recover at home; he is doing well and staying out of the hospital. The Tendo Patient Care Journey app continues to assist him with necessary follow-up appointments with cardiology and other specialists. In the long run, Sue also remains engaged with his care.
Epilogue~
Norman was able to join Sue on a bird watching vacation with confidence, due to his digital care plan and a new blood pressure prescription.
The hospital avoided a high-cost inpatient episode and readmission penalty. Norman's positive successful transition, aggregated with many other transitions across the health system, resulted in a higher US News ranking in cardiology.
Ensure that transitions of care do not result in gaps in his care.
Target high-value opportunities that generate:
Personalized & specific notifications driving improved health outcomes
Higher patient engagement and reduced clinician burden
Find out what Tendo can do for you. Have time for a quick chat? 
more of what Tendo has to offer
For patients and clinicians
Patient Care Journey
Tendo's unified, consumer-grade, omnichannel app empowers patients to navigate their health. Drive patient growth and retention through better engagement.
For clinical, quality, and revenue teams
Insights
Get credit for your excellent clinical work with our CDI analytics to uncover quality and ranking opportunities while reducing penalties and increasing revenue.
For IT and operations
Modern Platform
Command and control center for your digital ops. Orchestrate solution configurations in a self-service environment to be flexible, agile, and scalable across all your service lines.
It's time to improve patient outcomes & your financial performance.
It's time to Tendo.
It's time to improve patient outcomes & your financial performance.
It's time to Tendo.