The Tendo App. Built for a better patient care journey.
The Tendo patient care journey app is personalized for patients and optimized for clinicians, improving end-to-end engagement and outcomes for both primary and specialty care.
Let us show you what we can do.
Let's connect for a quick chat and a glimpse of our applications and offerings. We want to get you the right tools to achieve your goals.
Looking for help with the Tendo app? Visit Tendo Support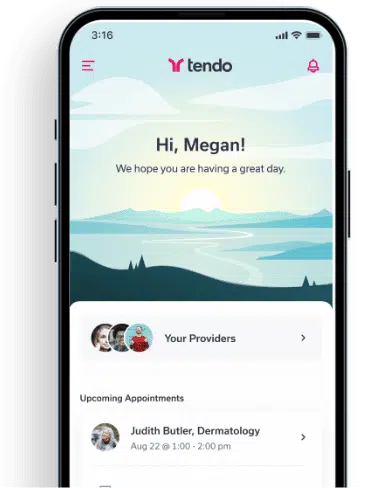 It's time to view every step of the care journey through one lens.
Search, schedule, referrals
Forms, surveys, and check-in
Labs, medications, visit summaries
Chat between patients and care team
Telehealth, RPM integration
Payment capture, integration
Family and caregiver communication
Care plan
End-to-end timeline to guide condition-specific journeys.
Search, scheduling, referrals
Find providers and book, cancel, or reschedule appointments.
Forms, surveys, and check-in
Pre-visit forms and related data collection for a streamlined check-in and follow-up care.
Notifications, reminders
Automated outreach with SMS, email, and push notifications for confirmations and proactive engagement.
Labs, medications, visit summaries
Test results, encounter notes, medication guidance, and health history.
Chat between patients and care team
Secure, convenient, and accessible asynchronous communication.
Educational material
Personalized, timely digital information that promotes healthy outcomes.
Telehealth, RPM integration
Connect with and integrate timely information from remote visits and devices.
Payment capture, integration
Collect patient payments before encounters, reducing operational waste.
Family and caregiver communication
Inform the extended care team at all points of the patient journey.
Navigate complex specialty care journeys, including:
Orthopedic joint replacements and spine surgeries
Cardiology surgeries, hypertension, and CHF management
Maternity, OBGYN, pre- and post-natal care
Oncology cancer treatments and screenings
Stroke and neurological disorders
Weight management, diabetes, and bariatric surgeries
COPD, asthma, and respiratory diseases
Urology surgeries—kidney, bladder, pelvic, and prostate
Omnichannel capabilities that meet patients & clinicians wherever they are.
At home, work, or on the go and on any device.
Tendo's unified, consumer-grade patient experience enables you to:
Build loyalty and trust
Generate meaningful engagement at all stages of the care journey.
Decrease operating costs
Automated, streamlined workflows free your workforce to focus on the highest-value activities.
Improve health outcomes
Patients, clinicians, and caregivers easily access and utilize the care they need, when they need it.
Simplify the most complex care journeys
Navigate specialty and primary care with condition-specific insights and guidance.
Increase revenue
Boost the profitability of your service lines with sustained patient engagement.
Stay ahead of your competition
Future proof with a solution that is constantly growing and enhanced.
Find out what Tendo can do for you. Have time for a quick chat? 
more of what Tendo has to offer
For clinical, quality, and revenue teams
Advanced Insights
Get credit for your excellent clinical work with our CDI analytics to uncover quality and ranking opportunities while reducing penalties and increasing revenue.
For IT and Operations
Modern Platform
Command and control center for your digital ops. Orchestrate solution configurations in a self-service environment to be flexible, agile, and scalable across all your service lines.
It's time to put joy back into the care journey.
It's time to Tendo.
It's time to put joy back into the care journey.
It's time to Tendo.